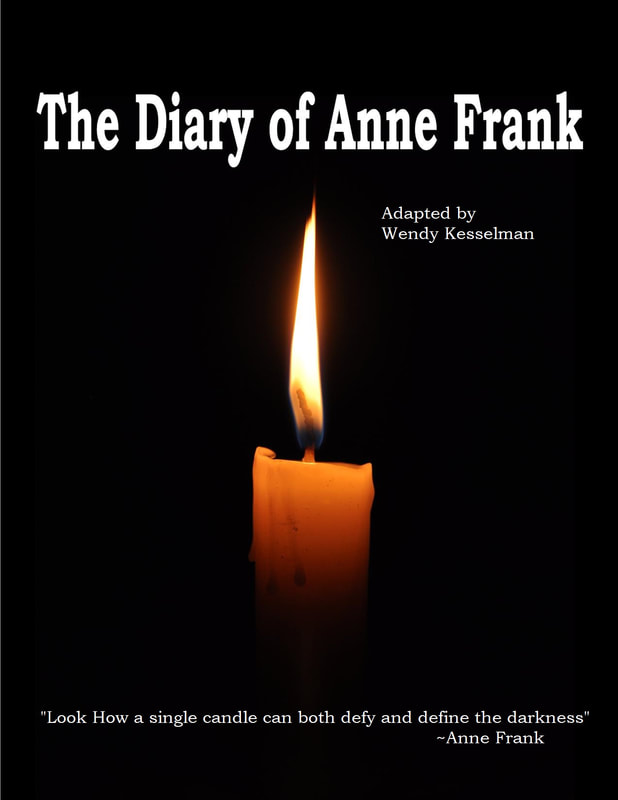 The Diary of Anne Frank
​
Adaptation by Wendy Kesselman

Directed by Beth and Mark Woodard

February 8 - 10 at 7pm and February 10 at 2pm, JE Broyhill Civic Center
​
From Samuel French:
"In this transcendently powerful new adaptation by Wendy Kesselman, Anne Frank emerges from history a living, lyrical, intensely gifted young girl, who confronts her rapidly changing life and the increasing horror of her time with astonishing honesty, wit, and determination. An impassioned drama about the lives of eight people hiding from the Nazis in a concealed storage attic, THE DIARY OF ANNE FRANK captures the claustrophobic realities of their daily existence—their fear, their hope, their laughter, their grief. Each day of these two dark years, Anne's voice shines through: "When I write I shake off all my cares. But I want to achieve more than that. I want to be useful and bring enjoyment to all people, even those I've never met. I want to go on living even after my death!" This is a new adaptation for a new generation."



Tickets available online; see link below.
---

Individual Ticket Prices:
​$14.00 Adult
$13 Subscriber
$9 Children and All-In
Groups of 10 or more will receive their tickets at the $13 Subscriber rate
*These ticket prices are the price after tax. We have included taxes into the ticket price for your convenience and ease.

Please visit the J.E. Broyhill Civic Center's website to find information on Season Subscriptions, All-In Packages, and Pick 4 options.

If you want to be a season ticket holder for Foothills Performing Arts, those tickets are now purchased through the JEBCC. You will purchase the Pick 4 option, and then select the 4 FPA shows. Those tickets can be purchased over the phone by calling the JEBCC box office at 828-726-2407 or online. The box office is open Monday through Friday from 10 am to 4 pm.
---
CALENDAR
January 2018
February 2018
2/8, 7pm: "The Diary of Anne Frank" at J.E. Broyhill Civic Center
2/9, 7pm: "The Diary of Anne Frank" at J.E. Broyhill Civic Center
2/10, 7pm: "The Diary of Anne Frank" at J.E. Broyhill Civic Center
2/10, 2pm: "The Diary of Anne Frank" at J.E. Broyhill Civic Center
March 2018
3/12, 7pm: Auditions for "The Odd Couple (Female Version)" at J.E. Broyhill Civic Center
3/13, 7pm: Auditions for "The Odd Couple (Female Version)" at J.E. Broyhill Civic Center
April 2018
May 2018

5/3, 7pm: "The Odd Couple (Female Version)" at J.E Broyhill Civic Center
5/4, 7pm: "The Odd Couple (Female Version)" at J.E Broyhill Civic Center
5/5, 2pm and 7pm: "The Odd Couple (Female Version)" at J.E Broyhill Civic Center
June 2018
July 2018
August 2018
8/4, 7pm: Foothills Performing Arts 42nd Season Willy Awards at J.E. Broyhill Civic Center ​
http://evite.me/G6vMGTRH98

---